- SPORT PERFORMANCE SUNGLASSES
- FRAME COLOR: BLACK GLOSS
- LENS COLOR: MULTIMIRROR BRONZE
- INCLUDES RAIN CLEAR LENSE
The Aerowatt Foza can be described as a charged performance eyewear model in a compact size. Sophistication with a classic yet dramatic flair.

This model can be identified through its unique square lens shape, featuring only two open bridge channels at the top, where the SpaceVent™ system pulls air behind the lens to combat fog distortion.

The Aerowatt Foza allows you to discover your preferred lens height with an 8% shorter base lens, a 5 mm difference from the Aerowatt. At the same time, it ensures wrap-around optical coverage.

The Aerowatt Foza is an excellent option for technical performance and style.

Revolutionary Space Vent™
The most striking and noticeable element is the functional and innovative SpaceVent™ system. It is the only known sports ventilation solution that allows maximum lens coverage without compromising vision or aerodynamics. It functions by simultaneously using the open lens channels at the top to circulate air and the strategic placement of the frame in the background to block light from entering an otherwise openly constructed system.

The model grabs attention through its top lens bridge, which contains three open, vented lens channels for the SpaceVent™ system, revealing the frame structure in the background.

This functional element challenges airflow by directing and diffusing air behind the lens to assist ventilation at any speed, reducing fog build-up, and simultaneously blocking and reflecting sunlight entering the eyes through the openings. The extended lens above the brow line protects against sunlight entering the eyes.

                                                                                                

Along the side of the lens, six dispersion gaps minimise fog build-up, following a stylish arched corner finish for an impactful look.

The open-vented bridge channels disrupt aerodynamic airflow by shifting and diffusing the air through the openings, supplying constant fresh air at any moving speed.

This full-coverage lens extends upwards to protect the eyes from sun rays and glare entering the sight from all angles.

Tour de France tested
Delivering two state-of-the-art performance models took extensive testing in the prototype phase going above and beyond expectation. UAE Team Emirates was at the forefront, having tested the first line of prototypes at the most coveted cycling race, the Tour de France. Amid a brutal heat wave that hit the Tour, it is safe to say that the models were tested under extreme conditions. Tadej Pogačar won the long and hilly Planche des Belles Filles stage wearing the Aerowatt prototype, and teammate Rafał Majka wearing the Aerowatt Foza. Before releasing the new models to the public, input from the riders was essential to transform the models into the best cycling sunglasses to date. This is Scicon Sports DNA.
Natural Based Bio-Frame
Nature demonstrates near-infinite solutions to problem-solving. Handcrafted in Italy and as an industry first the Aerowatt features an ecologically produced, bio-based frame material that is durable, lightweight, strong, and withstands the harshest conditions – all while reducing our carbon footprint.
The frame construction includes vegetable oil, which is safer for the environment, making it durable, lightweight, and able to withstand the harshest conditions - all while reducing our carbon footprint.

                                                                                             


Flexfit™ 2.0 Nose pads
A redesigned square shape allows a comfortable and customisable nose fit

                                                                                           


Performance and design
SCN-PP™ lens technology provides athletes uncompromised protection and optical clarity. The lens displays a shadow matt outline that softens external light reflections and creates a dual-lens appearance.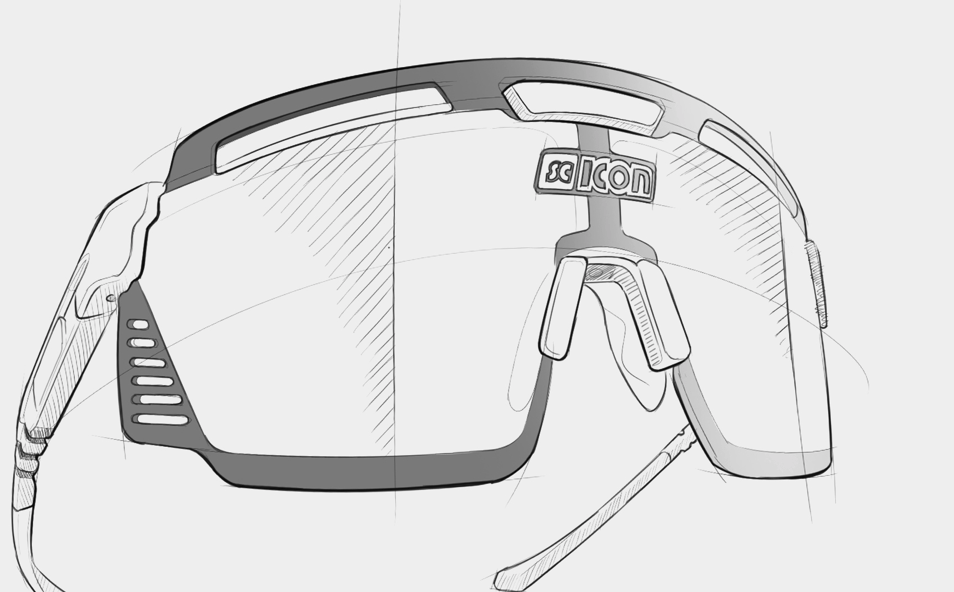 SCN-PP™ True Vision
The Aerowatt and Aerowatt Foza feature SCN-PP™ True Vision, a performance lens technology that provides athletes uncompromised protection and optical clarity. The lens displays a shadow matt outline that softens external light reflections and creates a dual-lens appearance. Allowing one to see colour and contrast in more detail.

Scicon frames are made from ecologically produced Bio-based materials, incorporating vegetable oil that is safer for the environment. It is durable, lightweight, and can withstand the harshest conditions—all while reducing our carbon footprint.

The Aerowatt represents the ideal combination of technical innovation, exceptional coverage,
glare protection and aerodynamic design elements.

A flexfit™ 2.0 nose piece accounts for a comfortable nose fit, and the adjustable flexifit™ temple tips for a complete no-slip grip.

Found in the Aerowatt DNA is no compromise and pure performance, designed by experts and tested in the field by professional athletes.

Key features
- Space Vent™ system
- 15 Anti-fog SpaceVent™ mechanisms
- SCN-PP™ True Vision lenses (60 mm)
- Power ergo design fit
- UVA & UVB Protection
- Full-cover optical shield
- UV 400 protection
- Interchangeable lens system
- Shield lens design
- Impact resistant lens
- Cylindrical Base 6 shield lens
- Flexi-fit 2.0 nose pads
- FlexiFit™:  Flexible and adjustable temple arms
- Clip Switch™ System
- Bio-based Frame Construction
- Entirely Made in Italy
- Weight: +- 35 g

- Lens color: Multimirror bronze
- Light transmission: 17%
- Filter category: 3
- Light conditions: Bright Light
- Contrast: Increased
What's in the box
1 Aerowatt Sunglass
1 Clear spare lens
1 multifunctional case
1 Microfiber Pouch

Power Ergo Design
Power Ergo Design ensures that our frames can be adjusted to fit your individual face shape and wearing preference for optimal performance. Flexi-Fit™ temples and adjustable double click nose pads feature in our performance range. Perfect alignment, secure fit and eliminating discomfort of frames with unbalanced pressure points.

SCN-PP Performance protection
SCN-PP lenses are tested under extreme circumstances and guarantee uncompromised protection against high-mass and high-velocity impacts. Our lightweight, durable and optically pure lens material withstand loads over 30 times higher than CR39 lenses and 60 times compared to mineral glass lenses.

No nonsense, straightforward protection when you need it - whether is in the blazing sun or winter's glare, these lenses are your everyday activity go-to. A specially designed multi-mirror coating treatment on the Scicon Sports SCN-PP™ lens range adapts perfectly to bright light conditions and is optically tuned in a wide range of colors offers unparalleled viewing comfort in any atmospheric situation that may arise for any athlete. Scicon Sport's SCN-PP™ lenses are made from unique polycarbonate materials giving the lenses an extraordinary ability to withstand high impact trauma, whilst being able to withstand loads of over 30 times higher than CR 39 Lenses and 60 times compared to mineral glass lenses. Specifically made for bright sunny light, we put extensive design and research emphasis on ensuring that our lenses provide the wearer with 100% protection from harmful UV A/B/C rays promoting overall eye-wellbeing. The polycarbonate with which the SCN-PP™ lenses are produced is the only material able to "block" all radiation with a wavelength below 380 nm. Other materials can perform the same function, but only after particular treatments. 

Rider comfort is as important as visual clarity and wellbeing, this is achieved by the lightweight characteristics of the polycarbonate (1.20 gr./cm3). Scicon Sport's SCN-PP™ Lenses are offered in a range of colors based on the specific visual needs for various sporting activities.

SCN-PP™ Multi-Mirror
Scicon Sports SCN-PP™ Multi-Mirror coating is an ultra-thin metallic layer on the outside layer of the lens, which as the name suggests provides wearing with a mirrored effect not only visually but functionally too. Varying in the levels of mirror intensity from a glossy mirror to a more intense mirror. Based on the level of "mirror" multi mirrored lenses reflect the sun's glare away from the surface of the lens, reducing the amount of light that is entering the eyes when the glasses are worn and offering 100% UVA and UVB protection.

Anti scratch
SCN-PP™ lenses are made from a unique combination of polymer materials that offer a higher scratch-resistant surface than regular lens types.

Lightweight
Rider comfort is as important as visual clarity, this is achieved by the lightweight characteristics of the polymer (1.20 gr./cm3) used in creating our SCN-PP™ lenses.

Optical clarity
SCN-PP™ lenses have lower refraction index internal stress and chromatic dispersion (Abbe Number) than Polycarbonate resulting in higher definition and sharper image.

Hydrophobic + Oleophobic
Makes it nearly impossible for foreign bodies to latch on to lenses. It allows drops of water, grease, chemicals, dirt, to slip from the surface of the lenses. Facilitates easy cleaning.

High impact resistance
The unique polymer compound used in our lenses is extremely resistant, able to withstand loads of over 30 times higher than CR 39 Lenses, and 60 times compared to mineral glass lenses.

Chemical resistance
Unlike Polycarbonate and Polyamide, polymer SCN-PP lenses are not damaged by common chemicals or solvents such as acetone, methyl alcohol or gasoline.

Contrast control
SCN-PP™ lens is engineered to produce a specific spectral curve that optimizes transmittance across the entire light spectrum. Far more than a cosmetic characteristic, the color of an SCN-PP lens is a critical component that filters light at different wavelengths to enhance the visual experience of the wearer by controlling contrast, color and definition.

About Scicon
SCICON was founded in 1980 in a garage near Bassano del Grappa - Italy, the heart of the cycling industry, to solve the problem of how professional cyclists could travel with their bikes. The evolution over time has created a brand, which not only solves problems, but inspires adventure around the world.

With over forty years of activity, the greatest cyclists in the history of cycling have used a SCICON bag. Moser, Cipollini, Pantani, Indurain, Bettini, Boonen, Froome, Contador, Nibali, Sagan, to name just a few.

In 2011, the ASG Group became the main shareholder of SCICON, guaranteeing rapid, global expansion.

In 2019 Scicon Sports entered the world of sports eyewear and immediately became a point of reference for many cycling champions and enthusiasts.

In 2020, after less than a year, Scicon Sports glasses win the Tour de France with Tadej Pogacar, over 50 races and are used by three World Tour Teams. UAE Team Emirates, NTT Pro Cycling, Israel Cycling Academy. We are here to win and stay.

Today SCICONSPORTS exports to over 40 countries and operates branches in the USA (San Diego), South Africa (Pretoria), Australia (Melbourne). The Headquarter in Bassano del Grappa (Italy) includes a concept lab for the prototyping of bags, production of technical sportswear and an eyewear assembly department.