- ROAD AND GRAVEL HELMET
- HIGH-PERFORMANCE ECO-DESIGNED HELMET
- MODEL: ECO AVIO
- COLOR: BLACK
- SIZES: 52-55 CM, 55-59 CM, 59-62 CM
€192.50
(tax incl.)
€275.00
Reference:
BOLBC006001-02-03#L
The most aerodynamic, ventilated and lightweight eco-designed cycling helmet. Ideal for gravel, the Eco Avio challenges the traditional way to make helmets with 100% recycled EPS and webbing. Ultra-lightweight thanks to its EPS design, lightweight in-molded components and optimized fit system, it features Mips® Air, Mips®'s most lightweight brain protection system. Super ventilated, the Eco Avio is designed to align both deep internal channeling and large front vents with small exhaust ports that create low pressure at the rear of the helmet for extra air circulation. Developed to make you faster with cutting-edge aerodynamics, the Eco Avio has an optimized low-profile shape and is equipped with the Avid Aero Progressive EPS to direct airflows and manage impact energy. Conceived to reduce drag thanks to its Kamm Tail at the rear, the Eco Avio is all about details with an Opti-Dock designed to securely hold all-sized sunglasses and even a ponytail compatibility. A new generation of helmets with no compromise.

For the first time, Bollé addresses Gravel Enthusiasts with the launch of the Eco Avio Mips. Part of our sustainable approach and "React for Good" campaign, the Eco Avio Mips is Eco-designed and available in specific natural colors.

With the Eco Avio Mips, Bollé redefines performance and introduces the Most Aerodynamic, Ventilated, Lightweight Eco-designed road and gravel helmet ever.

Technologies
- Avid Aero Progressive EPS
- Mips Air Ultralight Brain Protection System
- Kamm Tail
- Strike-Cage technology
- Opti-Dock
- Performance Click-To-Fit™ System
- Ponytail compatible
- Anti-twist and slip divider
- 50% recycled EPS
- 100% recycled webbing
- Weight: +- 290 g

Mips® safety System
The Mips® safety system is a low-friction layer inside the helmet. Generally located between the padding and the EPS foam protective layer, it allows a multi-directional movement of 10-15mm on certain angled impacts, intended to help reduce rotational force to the head. It is engineered to work flawlessly with the helmet's design without compromising either the comfort, the ventilation or the fit. There are different Mips® systems, but all consist of a low-friction layer between the helmet and the head that provide extra protection to your brain so you can focus on your activity, light-hearted.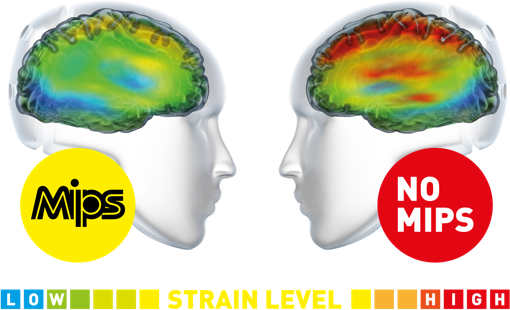 Click-To-Fit™ system
Our Click-To-Fit™ system allows you to fine tune the fit of your helmet easily and quickly. Our rubberized adjustement wheel lets you tighten or loosen the helmet effortlessly, even with your gloves.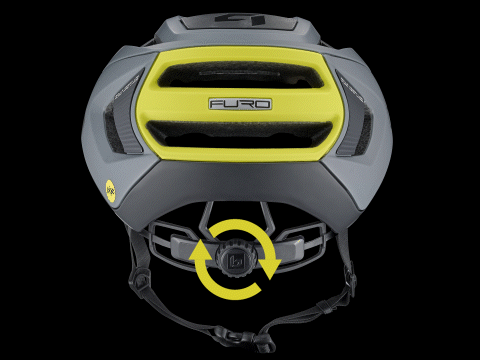 Avid Progresive EPS
To create helmets that perform against all types of impacts, the details are key. High-density EPS ensures that high energy impacts are effectively absorbed. Low-density EPS, however, provides superior performance against less severe impacts. Bsollé helmets with AViD liner technology use a combination of different EPS densities and/ or optimization of the ventilation channels to virtually decrease the density in the upper area. The result is a lighter, better-ventilated helmet with progressive shock absorption that will absorb a wider range of impacts*. (Available on the Trackdown & Instinct.)

*compared to a standard EPS liner with uniform thickness.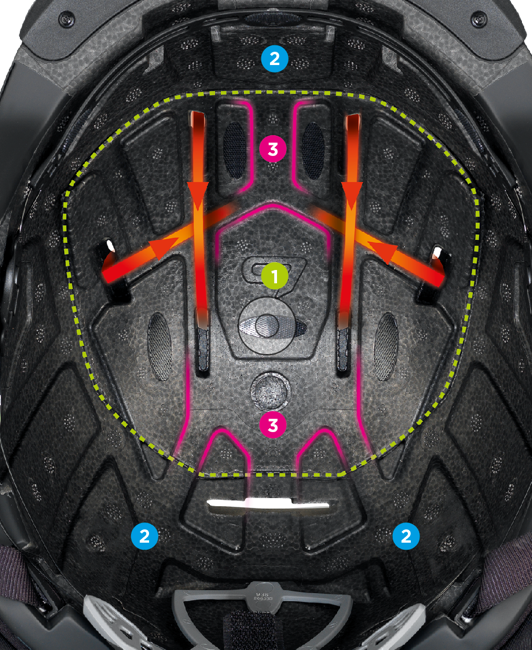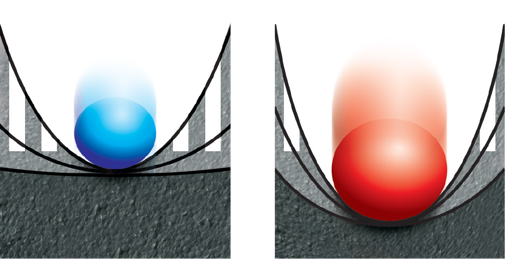 Opti-dock
With Bollé's history of designing and developing eyewear it felt only right to have a dedicated place to stow your eyewear in the Furo. Bollé's Opti-Dock storage system is a dedicated place to securely stow your eyewear.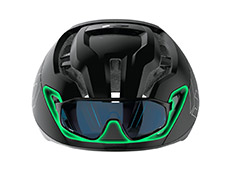 Kamm tail
The abrupt rear cut-off delivers a smaller wake that reduces drag and so improves aerodynamics.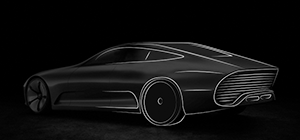 About Bolle
Born in 1888 in France, Bollé is the market-leading solution for eyewear and helmets. Globally respected and worldwide distributed, Bollé is known as the most advanced design and creative sports brand, which creates trends and pushes industry boundaries.

2023 will be a landmark year for cycling with the launch of a high-performance road helmet and the revival of the Micro Edge sunglasses, once again ahead of trends. Bollé also answers to the active consumers' most recent needs with new flagship products (all sunglasses, a visor helmet and the gravel version of the high-performance helmet) being eco-designed, while constantly including the brand's best proprietary technologies.
Data sheet
Manufacturers

BOLLE
Speciality

Gravel
Road
Specific References
ean13

848391078822