URBAN BACKPACK
COLOR: STEALTH
Do you often cycle in the city? Are you looking for the perfect everyday companion that looks good, strengthens your back and is environmentally friendly? Here is the solution! The BC Urban is much more than just a rude backpack. It is stylish, offers a lot of space to stow away and a lot of comfort - especially for your back, as the seal of approval of the "Aktion Gesunder Rücken" (campaign for a healthy back) proves. In short: The BC Urban makes your urban life easier - no matter how heavy you have to carry.

Technical Specifications
Name: BC Urban
Use: Urban
Size: One Size
Color: stealth
Volume: 21 l
Material: Polyester
Perfect Fit Backpack
1. 4-way back length adjustment – from size S to XL.
2. Automatic adjustment of the shoulder fit – flexible connection oft he shoulder straps.
3. Removable hip belt – Load stabilization at the lower back.


Certified back-friendly
Dorsal and back pain is currently one of the most common human health issues. Naturally this also effects and compromises the enjoyment of riding your bike. The positive effect of the Core saddle series' working principal, in regard to back issues, has officially been confirmed by a group of interdisciplinary experts (health professionals, orthopedists and physical therapists) in a long-term certification process. It works!
As the first bike saddles ever, the 2020 Ergon Core models have been awarded with the seal of quality called "Campaign for Healthier Backs "by the Association Forum Healthy Back – Better Living and Federal Association of German Back Schools.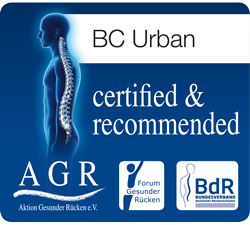 Made of recycled PET bottles.

The cover of the BC Urban is bluesign® certified and water resistant. Together with the inner lining it is made of recycled PET bottles. 45 PET bottles a 500ml are used for each bag.


The perfect companion fort he urban everyday life
The main compartment is easily accessible trough the full-width roll-down closure and contains a notebook pouch (up to 15"). Additionally the BC Urban features a useful Cargostrap on the outside (for carrying parcels, packages and other bulky cargo), making it the perfect companion for the urban everyday life.
Optional accessory
- Water resistant rain cover
- Removable Cargostrap for carrying parcels