GRAVEL FULL SUSPENSION BIKE

COLOR: OLIVE GREEN/ORANGE
Reference:
MCR9RDOOGO-004#53
Introducing the world's first full-suspension gravel bike – the Niner Magic Carpet Ride.
By adding our CVA full suspension to a dedicated gravel bike platform, we're blending the confidence and control of a cross-country race bike with the efficiency, fit, and responsive handling of a gravel bike. The result is a curly bar bike with superior comfort, power delivery, and pure, unadulterated fun.

Why forge the first drop-bar full suspension bike? Because Niner Bikes was founded in 2005 with a simple goal: making riding on dirt a better experience, period. Fourteen years later, the MCR 9 RDO is a natural extension of this effort. When you ride one, you'll see. More comfort, more control, more fun, and more freedom to ride whatever, wherever 
The 9 things you need to know:
- 50 mm of stable yet supple CVA suspension.
- RDO carbon fiber main frame and rear triangle with forged, 1-piece linkages.
- Integrated rear fender protects suspension components.
- 11 fixed mounting points for frame bags, bottles, and more.
- Removable front derailleur mount.
- Durable, long-lasting Enduro Max "Black Oxide" pivot bearings.
- Clearance for 700 x 50c or 650b x 2.0 tires.
- End-to-end, Full Sleeve internal cable guides and integrated frame protection.
The suspension question: Asked and answered
But … why?
Because, when there's an idea for a way to make riding on dirt better, we at Niner pay attention. In 2005, it was the 29er wheel size. In 2008, it was our CVA full-suspension design, optimized for bikes with bigger wheels. In 2013, it was the RLT - one of the sport's earliest purpose-built gravel bikes, with stable geometry, sturdy construction, and ample tire clearance.
So lately when we started seeing our gravel riders doing more and more crazy shit on their fully rigid, unsuspended bikes, our metaphorical attic lights clicked on
Think about that phrase: fully rigid, unsuspended bikes. That's mountain biking, 30 years ago. Why should gravel bikes be stuck in the past?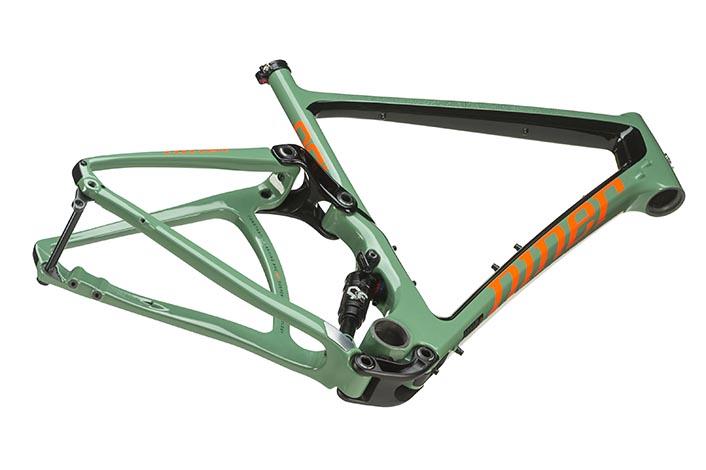 Today's mountain bikes are fully suspended, dressed in disc brakes, dropper posts, thru-axles, and more. These technologies make mountain bikes faster, more fun and more capable, enabling longer rides in more places. And up to now, all but one of these MTB technologies has been adopted for gravel.
By adapting high performance suspension for gravel, we believe the MCR 9 will allow gravel riders to pedal comfortably, powerfully, with more control and confidence over once-unthinkable surfaces. We're proud to be the pioneers bringing full suspension to gravel bikes.
What it is and what it ain't 
Let's be clear: the MCR 9 is not a mountain bike with drop bars. It's a true gravel bike, with steeper geometry, quicker handling, and an ergonomic fit. It's made for seated pedaling and rider comfort over long distances. It has half the suspension travel of a true mountain bike.
The MCR 9 is more than a gravel bike. It doesn't skitter and skate though corners. It doesn't buck you out of the saddle when you pedal through washboards, ruts, and cobblestoned stream crossings. And descending rough roads at speed is not a white-knuckle fear fest. Why? Because it doesn't rely simply on tire pressure and undamped frame flex for suspension
Thanks to suspension, the MCR 9 encourages sitting deep in the saddle and pedaling powerfully through chop. It hugs the ground and tracks corners like a slot car. It's planted and confident on high speed descents. It leaves you fresher, with more energy and less wasted effort, by isolating you from intrusive bump inputs.
If light weight, endless uphills, and ruthless efficiency is your thing, our RLT 9 gravel bike series is your jam. If steep, rough descents and straight up singletrack figures prominently in your plans, consider the RKT 9 RDO mountain bike
But if you want an entirely new outlook on gravel, one that marries the confidence and comfort of a mountain bike with the efficiency and fit of a gravel bike, hop on this Magic Carpet for the ride of your life
The CVA story
Over the years, plenty of effort has been made to add comfort to drop-bar bikes. But most designs use primitive, undamped flex points or elastomers that simply mute vibration. These don't address the fundamental goal of true suspension, which is keeping the tire contact patch from bouncing off the ground. More tire contact = more control.
We wanted the most sophisticated, tunable suspension system possible, with a minimum unsprung weight. By suspending as much of the bike and rider mass as possible, we achieve the most sensitive, compliant ride possible. Air springs are infinitely tunable to suit a wide range of riders and their gear. And oil damping is essential, both for controlling compression energy inputs from the rider, and for dissipating rebound energy as the suspension recovers from bumps of all sizes.
At the heart of the MCR is Niner's patented, proven, Constantly Varying Arc (CVA) suspension system. It debuted in 2008 and has been incrementally refined ever since. But the fundamentals have not changed: CVA is stable yet supple while climbing and pedaling; sensitive and supportive going downhill; consistent and controlled in every situation.
For the MCR 9 RDO, we changed the suspension curve to emphasize performance for a seated, pedaling rider. It's tuned to be especially sensitive to high frequency, low amplitude bumps, and more linear with less end-stroke progression. Configured as a short-travel system, we want riders to easily achieve full travel with less emphasis on big hits and bottom out resistance.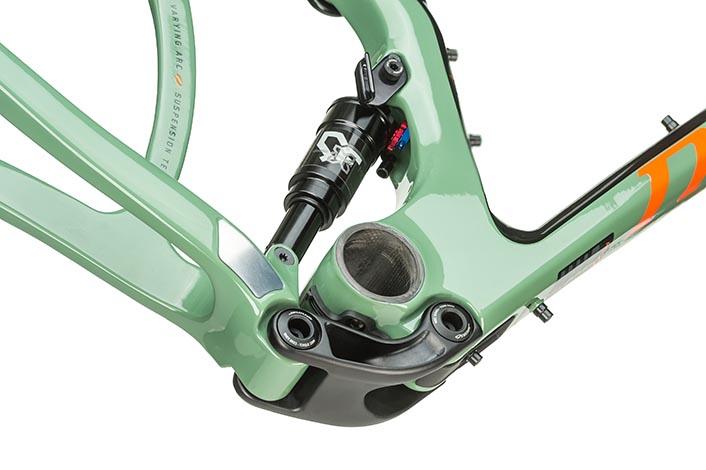 Suspension details
- Revised CVA linkage layout.
- Stable yet supple, consistent and controlled CVA suspension behavior.
- Lower link under the BB for short chainstay length.
- Flatter leverage curve allows full use of shorter travel.
- Air spring for infinite spring rate adjustment.
- Oil damping to control movement.
- Remote rear shock lockout. 
Weaving the magic carpet 
The quest to effectively suspend a bike and rider on a drop-bar bike has stretched on for years. As early as the 1990s, emerging mountain bike concepts were tested on Paris-Roubaix road racing bikes built for the cobblestoned roads of northern France. And mountain bike racers have occasionally adopted road bike drop bars and aero bars for certain events.
Development of the MCR began in 2016 with internal discussion regarding goals, features, and design concepts. Lead Engineer George Parry began with aluminum prototypes to test geometry, frame design, and suspension behavior. By late 2017, we had a size run of alloy mules. Many designs and prototypes were considered tested until we knew we had it right.
In the end, we aimed to maintain a classic gravel bike aesthetic with no compromises in geometry, handling or stiffness. By mounting the rear shock behind the seat tube, we saved space in the front triangle for bottles, bags, and other cargo. And by widening the down tube and seat tube, we maintain pedaling stiffness.
CVA already lends itself to short chainstay lengths and optimal frame geometry. This system also keeps the center of gravity as low as possible so the MCR has a nimble, responsive ride character.
Design details
- 50 mm CVA suspension travel, specifically tuned for gravel.
- Fully suspended bike and rider; minimum unsprung mass.
- Wide, oversized BB junction for stiffness and strength.
- Shock mount behind seat tube for clean aesthetic.
- Integrated, frame mounted fender with optional upper extension.
- Long-lasting Enduro Max Black Oxide pivot bearings. 
Made to range farther and faster
As gravel rides and gravel riders become more ambitious, demands on the equipment have expanded. By finally developing a proper full suspension gravel bike, we're expanding not only the rideable terrain map, but also the rider's range.
The MCR can go farther and faster than a typical full suspension mountain bike because it's more efficient. Plus, it keeps a rider less fatigued and more comfortable over long distances. It's specifically tuned for the demands of pedaling long distances in the saddle over high-frequency bumps.
The MCR is simply more versatile and more capable than other bikes. Full suspension allows for higher tire pressures and less rolling resistance on paved and smooth road surfaces, yet it allows a rider to charge through rough terrain at speed.
For evidence of the demands on today's gravel bikes, just look at a seasonal event calendar. It's filled with "this bike? or that bike?" events that demand the pedaling efficiency plus comfort, confidence, and control that only a full suspension bike can offer.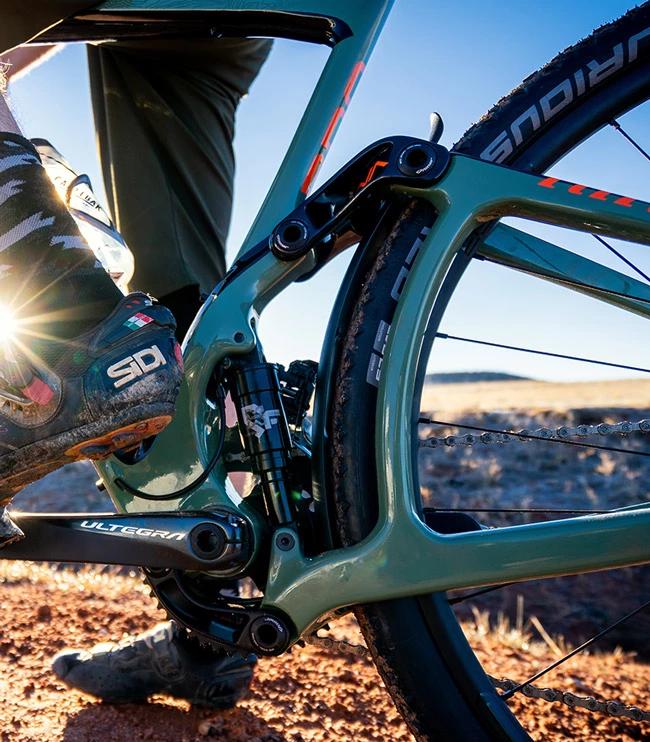 Frame Features
- Removeable front derailleur mount
- Integrated mounts for custom frame bags
- Multiple bottle cage mounts inside front triangle
- Multiple bottle cage mounts inside front triangle
- 12x142 rear through axle
- Flat mount disc brake fitment on rear triangle

Technical specifications
- 68 mm PF30 bb shell (adaptors required for BSA type bbs)
- NMF internal cable and housing guides for shifting and rear brake
- Front and rear rack/fender mounts
- Braze on mounted front derailleur
- 27.2 seat post with routing for dropper
- 31.8 seat collar
- 1.125" x 1.5" tapered integrated (campy style) head tube, headset included, cane creel descripction: IS42/28.6 IS52/40
- Disc brake only, 30 mm tall flat mount '160 mm max rotor size
- 142 x 12 rear spacing, 100 x 15 front spacing
- All sizes have 2 inner triangle bottle mounts
- Can fit up to a 700x50c/650x50c tire (tire sizes vary by brand, some tires may not fit)
- Compatible with standard 1x and 2x systems

Room to roam

Niner gravel bikes have room to fit 700x50c tires (or 650b x 2.0). 
Integrated frame mounts
You'll be hard-pressed to run out of room for all your gear. Multiple threaded mounts to fit custom bags, bottles, racks, fenders, lights, and more. 


Interchangeable wheel size
Niner gravel bikes are designed to fit both 700c and 650b wheels, for ultimate versatility and adaptability to suit any adventure.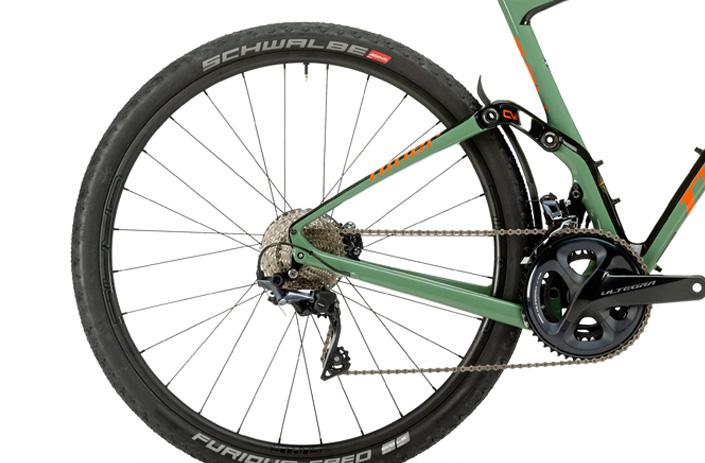 Gravel-tuned CVA suspension
Supple yet stable, and tuned for gravel. Our patented, proven Constantly Varying Arc system is adapted for the specific demands of gravel.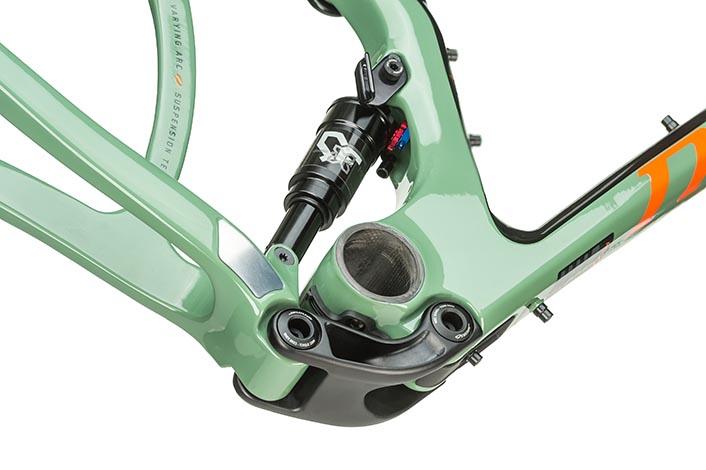 Lifetime Warranty
We have you covered with warranty service, small parts, and a support team that actually answers the phone. So go ahead, search out a gravel road you've always wanted to explore. 
Integrated fender
Cut the crud with the integrated frame fender. An optional bolt-on extension is available for even more coverage.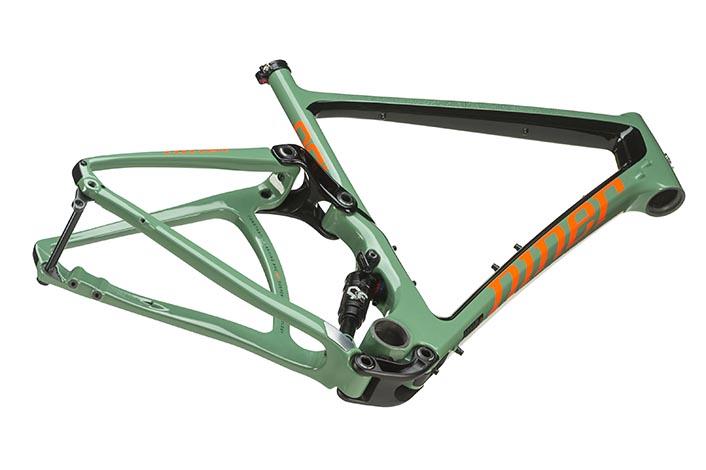 Recommended use: Gravel
Frame material: carbon RDO
Frame type: Hardtail
Head tube diameter: 1 1/2 to 1 1/8 tapered 
Headset included: Yes
Bottom bracket type: 68 mm PF30
Biocentric compatible: Biocentric 30
Cable routing: internal 
Front derailleur mount: braze on (removable mount) 
Derailleur pull: Bottom
Brake mount: Flat Mount
Seatpost diameter: 27,2 mm
Rear axle included: Yes. 12x142 mm
Manufacturer warranty: 5 years


Color: Olive green/Orange
Frame: Niner RDO Carbon fiber; 50 mm CVA suspension; forged alloy links; Enduro Max pivot bearings; internal cable routing; integrated fender; integrated bottle, bag, rack and fender mounts; Flat mount; 12X142 Thru axle
Fork: FOX AX 32 Stepcast 44 mm
Shock: X-Fusion Microlite RL w/remote lockout
Front wheel: TFHPC Wide 15/12x142 mm
Rear wheel: TFHPC Wide 15/12x142 mm
Front tire: WTB Resolute 700x42C Light Fast Rolling Tan Sidewall
Rear tire: WTB Resolute 700x42C Light Fast Rolling Tan Sidewall
Brakes: SRAM AXS Etap
Brake levers: SRAM AXS
Brake rotors: SRAM Centerline 140/140 mm
Chain: SRAM XX1 Eagle Rainbow
Front derailleur: -
Rear derailleur: SRAM AXS X01
Cassette: SRAM XG1295 Polar 10-50
Crankset: SRAM Force 1 Dub 172.5 46-36
Bottom bracket: SRAM DUB PF30
Saddle: Ergon SM10 Sport Men
Seatpost: TFHPC Pro 27.2 x 400
Handlebar: TFHPC Aerocross Carbon 460 mm
Stem: TFHPC Comp+
Headset: Niner integrated Shis description IS42/28.6|IS52/40
Tape: Finna Landscape
Frame sizes: 53 cm, 56 cm, 59 cm