- CARBON RDO FRAME
- COLOR: EMERALD GREEN
- CROSS COUNTRY EFFICIENCY, TRAIL BIKE VERSATILITY
€6,120.00
(tax incl.)
€7,200.00
Reference:
JET9RDOEG-001#M
The updated Jet 9 RDO: Fit to take flight

Completely reimagined, our classic JET 9 RDO reasserts its position as our most popular, most versatile, and most agile trail bike. With hyper-capable frame geometry and 120 mm of suspension travel, you'll float up technical climbs, blast downhills, and fly smoothly over everything in between.

Our first JET 9 left the runway in 2007. With this early head start, we are now a leader in the category. Niner's expertise in full-suspension 29er mountain bikes has been honed to a razor sharp edge. For this 14-year span, the JET has always maintained a place in our range. The latest iteration affirms the JET 9 RDO as one of the best contemporary short-travel trail bikes available, with the heritage to prove it and a lifetime warranty to back it up.

Just enough travel to take any trail
Our classic JET 9 RDO ratchets up the fun factor when it's time to fly, but it doesn't bite back during your climb to cruising altitude. It's our most popular mountain bike and it consistently earns accolades from media reviewers, everyday riders, and Niner athletes alike.

By blending the pedaling chops of a cross-country bike with the suspension and geometry characteristics of a trail bike, we've made our JET 9 RDO into the most versatile bike we could imagine.

Pedaling uphill is limited only by your legs and lungs. Our signature CVA suspension leaves no ounce of effort nor watt of power wasted. Every pedal stroke earns altitude with no loss of efficiency.

Flipping it around and floating back down, your descent is turbulence-free, thanks to small bump sensitivity. Combined with solid mid-stroke support to save full travel for when you really need it, the JET 9 RDO is a smooth flyer in any situation.

                                                                                  


Tuned and ready for takeoff
Contemporary frame geometry translates to modern trail manners when you need them most. The roomy cockpit has a comfortable reach for short stem lengths, giving you quick handling and plenty of maneuverability to navigate any airspace. And of course, the slack, 66.5-degree front end and long, 1179 mm (size medium) wheelbase contribute stability and self-confidence when you're dropping into steep descents.

Keeping your powerplant positioned well over the pedals, a 76-degree seat angle makes ascending to altitude a little easier. Paired nicely with short 430 mm chainstays, the JET 9 RDO won't hesitate when crawling up the crux of your favorite testpiece trail.

If your daily dose of dirt includes less pedaling, faster corners, and some heels-down, flat out fall-line chutes, you might want a lower bottom bracket and slacker head tube angle. Not to worry - the built-in flip-chip seatstay pivots allow riders to lower the bottom bracket by a full 8mm and slack out the geometry by half a degree.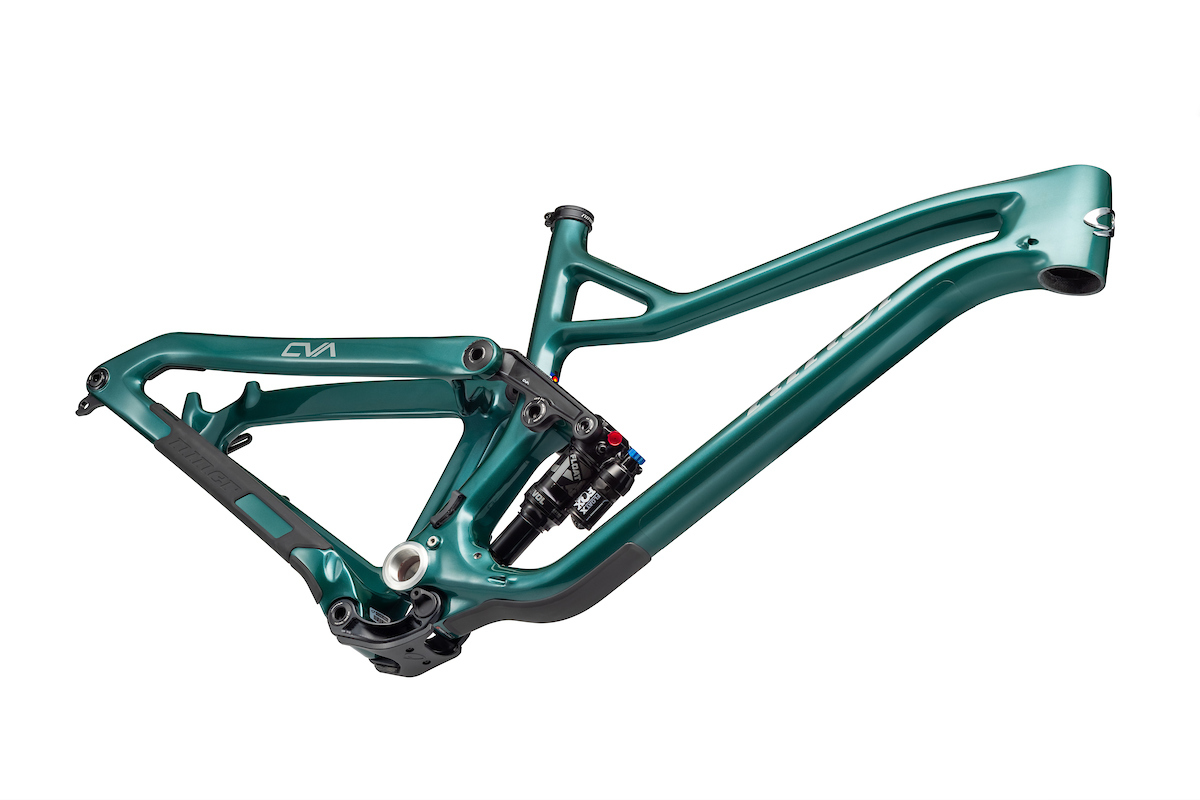 The JET engine: Constantly Varying Arc
The beating heart of our updated JET 9 RDO is the Constantly Varying Arc (CVA) suspension system. CVA debuted in 2008 as the first suspension layout made specifically for 29ers. With kinematic updates to suit the specific needs of each bike, it remains our patented, signature suspension system.

Our CVA fundamentals are rock solid: it's stable yet supple while climbing and pedaling; going downhill, it's sensitive and supportive; it's consistent and controlled in every phase of travel.

On the JET 9 RDO, a new trunnion mount shock adds width (and therefore stiffness) to the frame and linkage. More importantly, the bearings at the upper shock fitment allow extra-smooth articulation through the entire rocker arm sweep of 40-degrees during suspension travel. This improves small bump suppleness. Furthermore, trunnion shocks occupy less physical space, allowing a compact form factor.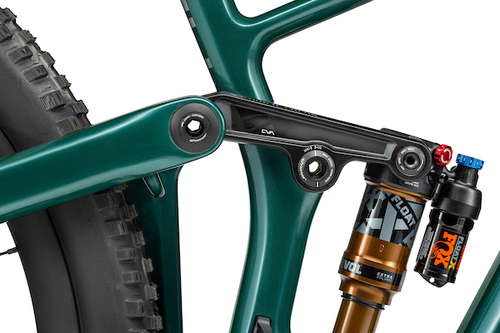 Enduro MAX Black Oxide pivot bearings
Niner full suspension bikes feature Enduro MAX Black Oxide pivot bearings. The industry benchmark for this application, the Enduro bearing brand created the MAX designation to indicate more ball bearings per race. This provides better load distribution and is ideal for suspension pivots. And the Black Oxide grade indicates a magnetite surface coating for more corrosion resistance. All in all, these are by far the best pivot bearings available, bar none.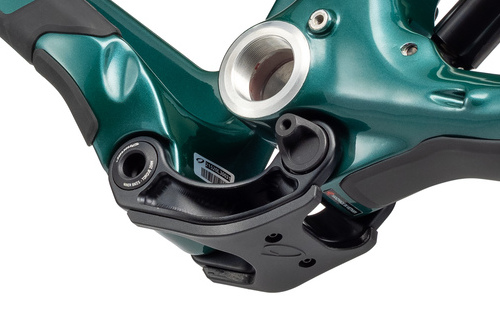 A fuselage that's fit for flight
Svelte yet stout, the JET 9 RDO exhibits Niner's characteristic full-suspension form factor. A blend of weight-conscious trimming where possible and strength-enhancing structures where needed gives this trail bike the ideal balance of XC light weight and trail bike sturdiness.

Wide, flat surfaces on the top and downtube help to absorb frontal impacts and vibrations while resisting deflection and twisting under torsional load. Crossmembers in the rocker link and swingarm keep the rear of the bike on lockdown during corners and hard efforts.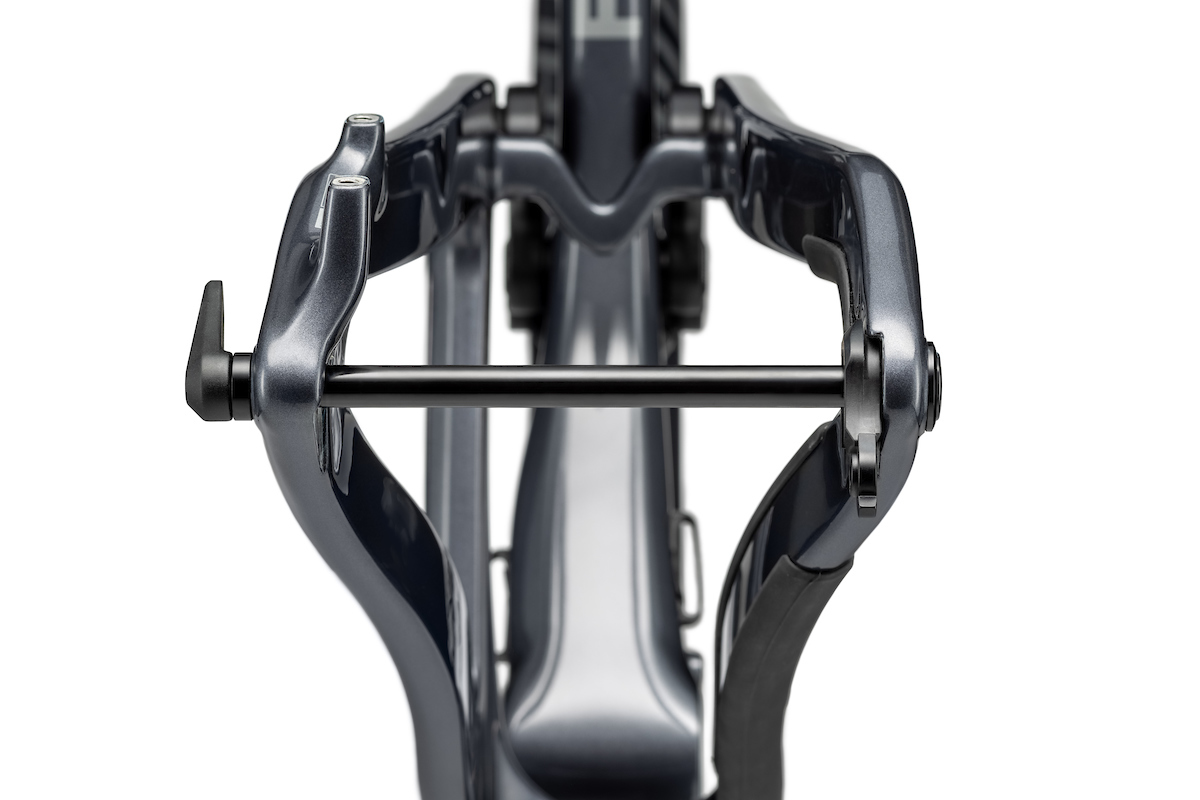 Full sleeve cables guide
No more fishing. We built in end-to-end cable guides through the frame for easy installation and maintenance.

In order to get the best possible shifting performance, we designed the smoothest, straightest cable routing possible. Cable housing slides easily through full-sleeve guide tubes in gentle arcs from front to back. An integrated cable cage wicket on both sides of the frame just above the bottom bracket area keeps the housing protected from harm and free to move as the suspension cycle.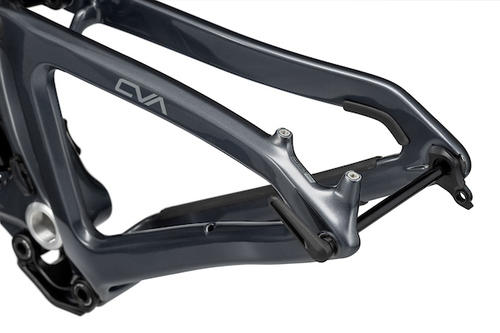 RDO carbon fiber
Niner's premium Race Day Optimized carbon fibre means more strength, higher stiffness and less weight.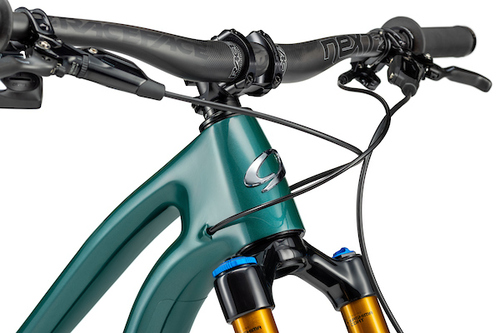 Frame fittings and mounts: 1 bottle cage in front triangle
Rear suspension: 120 mm
Maximum front suspension: 140 mm
Fork offset: 44 mm
Shock size: 165x45 mm trunnion
Shock mounting hardware:          Upper: M10 x 54 trunnion
                                                         Lower: M8 X 25 mm
Suggested shock sag: 30% (13.5 mm)
Seatpost size: 30.9 mm
Seat collar size: 34.9 mm
Cable routing: internal
Front derailleur: N/A
Headset size: Shis description ZS44/28.6, ZS56/40
Pivot bearing specs:     (8x) 26x17x5 mm Enduro BO Max
                                        (2x) 26x17x10 mm Enduro Double Row
                                        (2x) 22x10x6 mm Enduro BO Max
Chainring compatibility:
Maximum chainring size: 34 teeth
Q-Factor: N/A
ISCG compatibility: ISCG 05
Bottom bracket type: BSA threaded
Biocentric compatible: N/A
Brake Mount Type: Post Mount
Maximum rear rotor size: 203 mm
Rear wheel spacing: 12x148 mm
Rear Wheel through axle: 12x182 mm, M12 x P1.0, L15 mm
Front Wheel axle spacing: N/A
Front Wheel through axle specs: N/A
Max tire size: 29 x 2.6



Frame: Jet 9 RDO
Fork: Formula Selva S 130 mm QR15
Wheels: TFHPC Wide Tubeless Disc MTB 29"/700C 
Front tire: WTB Trail Boss TCS Light Fast Rolling 2.25 x 29"
Rear tire: WTB Trail Boss TCS Light Fast Rolling 2.25 x 29"
Front brake: Formula Cura X
Rear brake: Formula Cura X
Front disc: Formula fixed 180 mm 
Rear disc: Formula fixed 180 mm  
Bottom bracket: SRAM GX Eagle Boost 148 DUB 175 mm Lunar 32 teeth
Bearings: SRAM DUB PH30 MTB73
Chain: SRAM GX Eagle
Cassette: SRAM XG1295 Polar 10-50 teeth 
Rear derailleur: SRAM GX1 AXS Lunar + battery protector
Shifters: SRAM GX Eagle AXS 2 button MMX
Charger and battery: SRAM AXS
Stem: Renthal Apex
Handlebar: Renthal Fatbar V2
Headset: Niner 
Grips: Ergon GA3
Seatpost: Rockshox Reverb AXS 30.9
Clamp: Niner
Saddle: Ergon SM10 Sport Men (Stealth)
Data sheet
Manufacturers

NINER
Speciality

Cross Contry
Trail
Specific References
ean13

8423122182355