- BIKE LIGHTS SET
- 1300 + 170 LUMENS
The perfect choice for road cyclists who demand the very best in safety and performance. With long runtimes, carefully considered beam angles, powerful light output and multiple mounting options – the Blinder 900 & Blinder Square combo will impress, while greatly improving your confidence on the road.

Blinder 1300 front
A powerful front light with multiple mounting options, long lasting battery life and a compact & lightweight form.

- Produces a powerful 1300 lumen road focused beam
- Provides quality illumination up to 120 m
- Industry leading battery tech provides 1.5 hrs runtime on full brightness
- Up to 120 hours runtime on Eco flash mode

- Includes two mounts; a go-pro style attachment for mounting under a computer and a tough rubber strap for the handlebar
- Pre-programmed with 6 light modes to suit all conditions
- USB-C rechargeable (cable not supplied)
- 100% waterproof with an IP67 rating
- Intelligent button LEDs show battery level & charge status
- Side illumination windows for improved visibility

Mid Cobber Rear
18 factories told us Cobber would be impossible. We were happy to prove them wrong.

- Powerfully bright 170 lumens
- Up to 100 hr runtime
- Incredible 330° beam angle
- Quick mount release
- Waterproof to 1 metre with an IP67 rating
- USB rechargeable, cable-free charging
- Pre-programmed with 8 light modes
- Customisable modes with Knog's Modemaker app
- Compatible with standard & aero seat posts

Rock-Solid Mounting System
Blinder 1300 comes with two separate mounts. A tough and flexible rubber handlebar mount that fits diameters from 22.2 mm to 35 mm, and a Go-Pro compatible mount that can position the light below your computer or to a compatible helmet mount.


Industry Leading Battery Technology
Blinder 1300 is powered by a 21700 3.7V lithium ion battery. This technology provides best-in-class power-to-weight ratio, meaning you get to enjoy a more compact design with longer runtimes than most other lights in this category.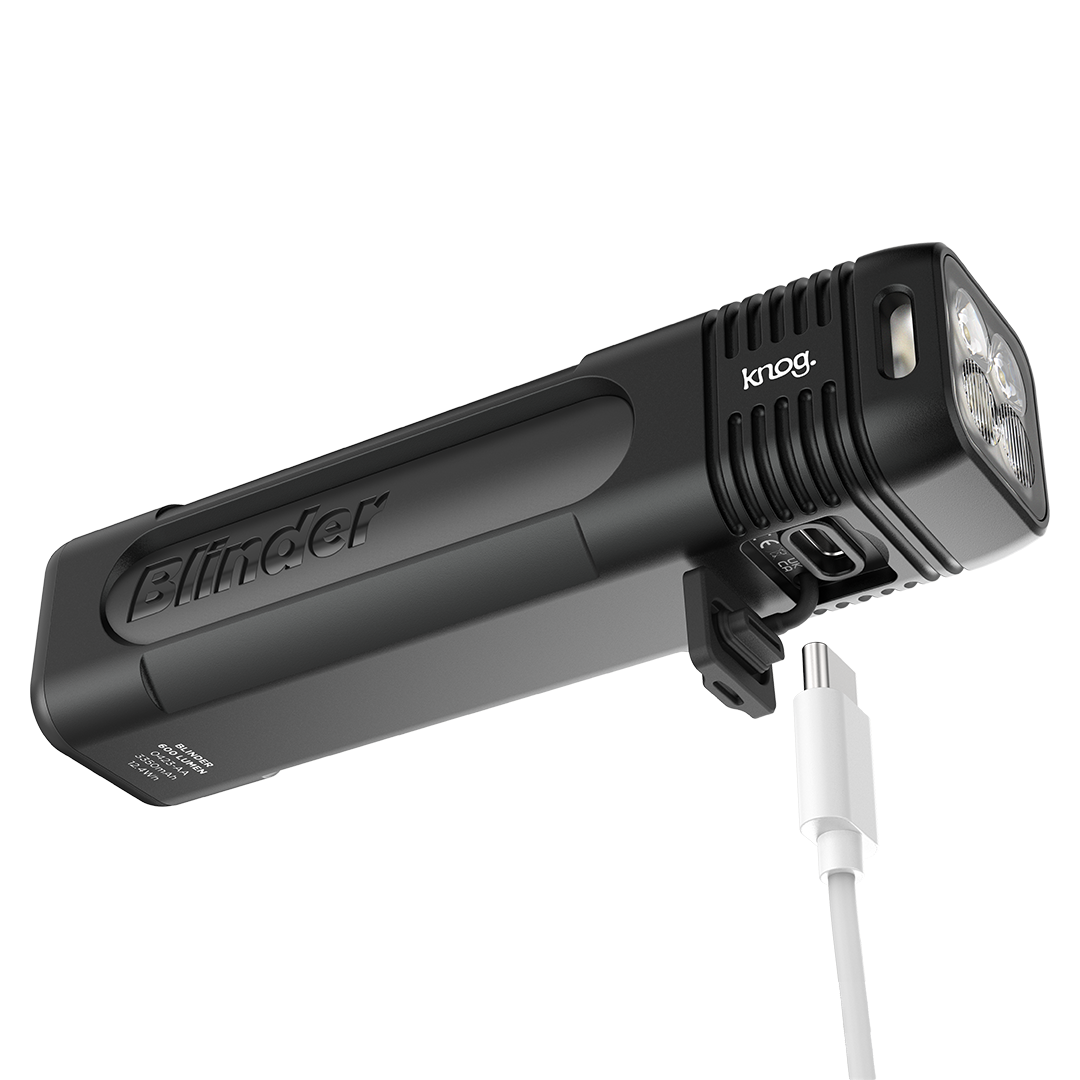 Road Optimised Beam Optics
An innovative and considered design combines two wide beam optics with two narrow beam optics to provide high quality illumination for up to 120 m. At the optimum angle of 22 degrees, you get more light where you want it.


Intelligent Silicone Button
An LED light around Blinder's soft touch silicone button allows you to quickly see remaining charge and the charging status. A quick press of the button when it's off shows you remaining charge, with green being 100-50% charge remaining, yellow 50-25%, and red under 25%. When charging, a yellow flash indicates the light is being charged, which turns green when full.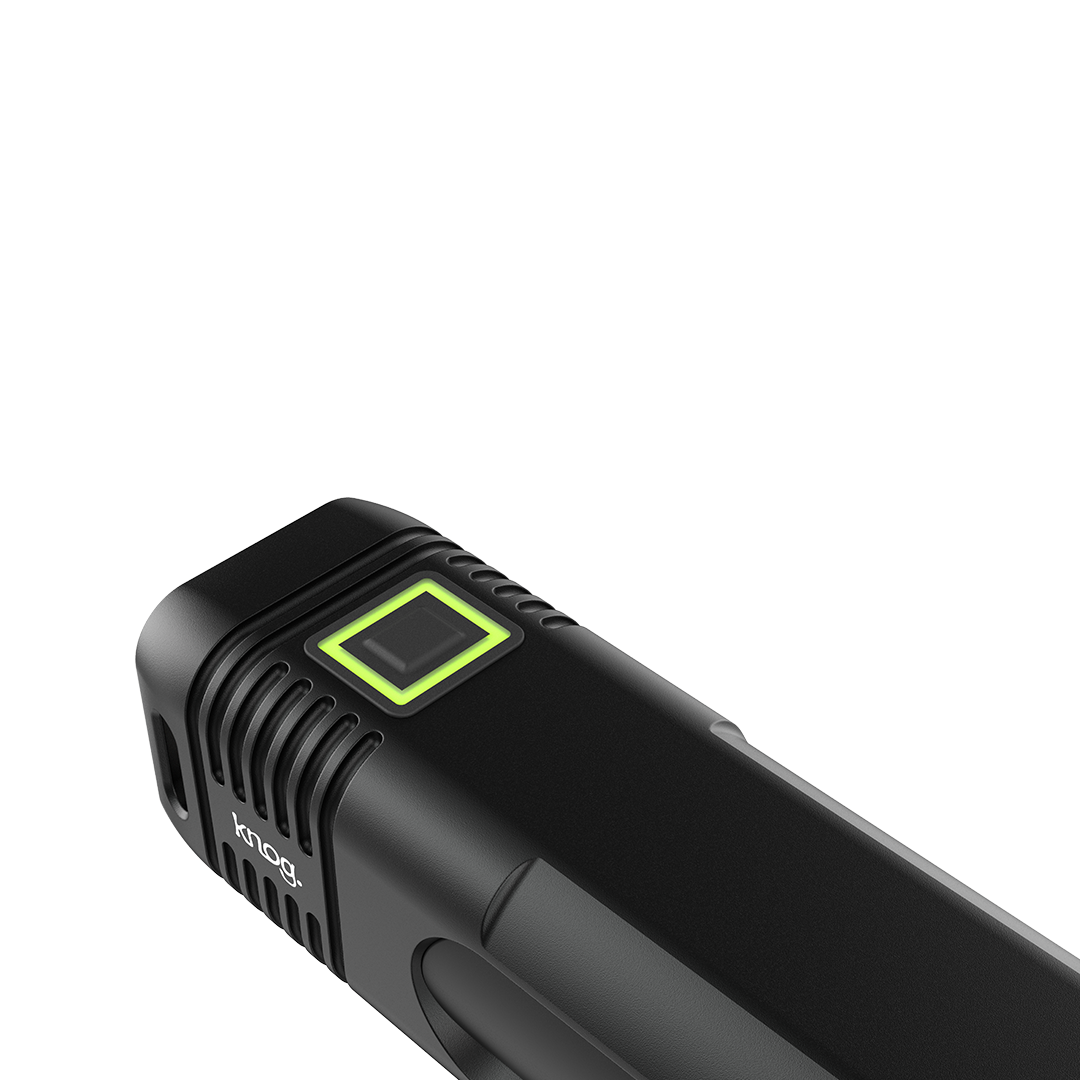 Simple Button
Mid Cobber Rear is simple to operate. A long press of the single button will turn the light on and off, and a short press will cycle through the modes. Cobber has a run time of up 100 hours.
                                                                                                                         

Packed With Innovation
Efficient Chip on Board (COB) LEDs provide maximum brightness level for up to 90% of the battery burn time. As well as 8 pre-programmed modes, it's also compatible with Knog's ModeMaker app so you can customize your light modes.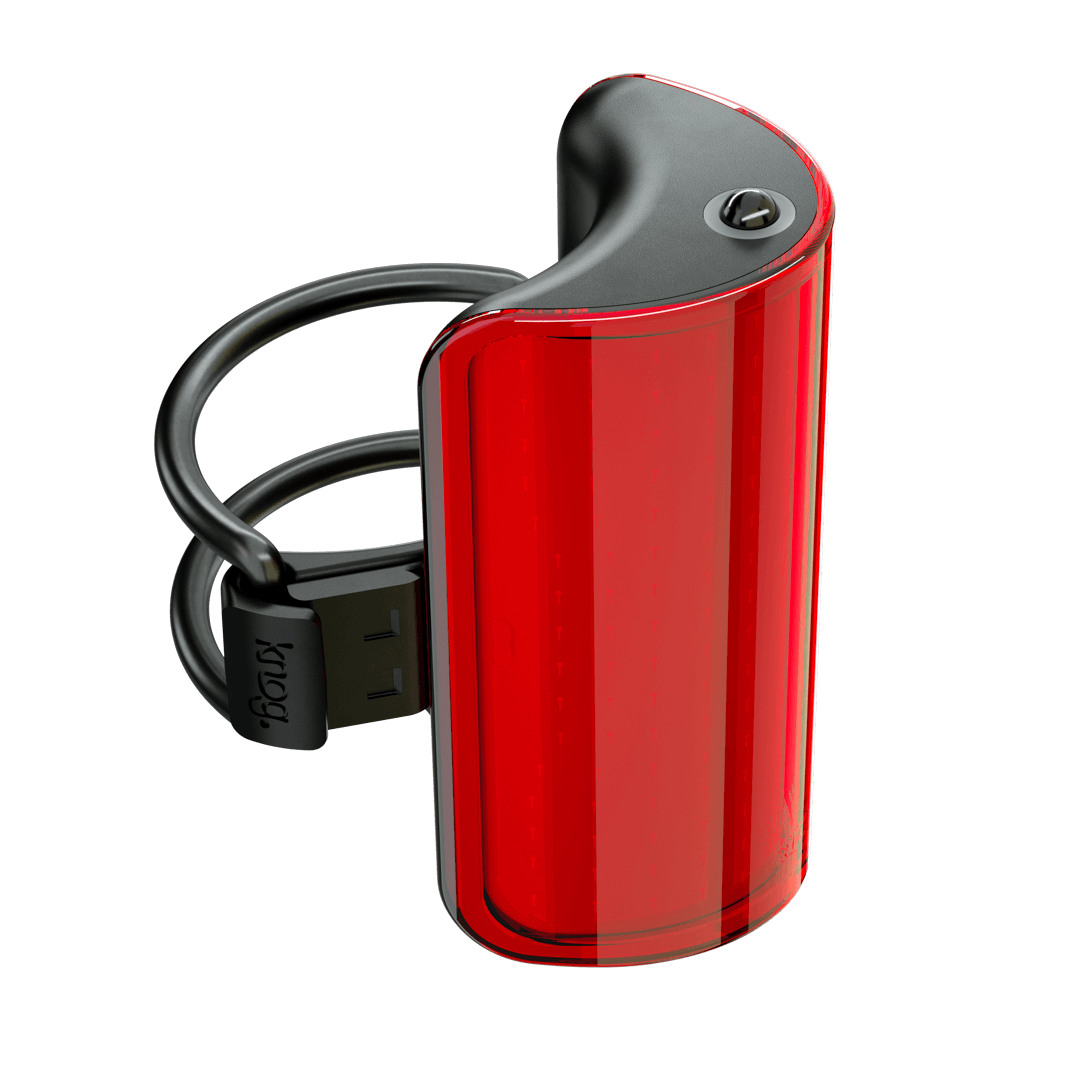 Dimensions Blinder 1300
- H: 110 mm
- W: 32 mm
- L: 32 mm

- Bulb type: 6 leds
- Battery: 5000 mAh 21700 3.7V lithium ion rechargeable battery
- Lens optics: Polycarbonate, 3 x spot optics & 3 x wide angle optics
- Beam angle: 23º
- Max Lumen Output: 1300 lumens
- Light modes: 6
- Aero bar compatible: Yes
- Low battery indicator: Yes
- Battery charge indication: Yes; yellow flash = charging / green short flash = charge complete
- Battery status indication: Green: 100 - 50%, Yellow: 50 - 25%, Red: 25 - 10%, Red Flash: <10%
- Fits bars: 22 - 35 mm
- Run-Time: Eco flash: 120 hrs, High Steady: 2 hrs
- Charge time: 5 h
- Rechargeable: Yes (via USB-C connector)
- Weight: +- 180 g / 6.3 oz
- Waterproof: Yes, IP67 rating
- Chassis: CNC 6061 Aluminium
- Operating temp: -20 to 50 °C / -4 to 122 °F
- Strap / Mount material: Medical grade silicone / Glass reinforced plastic
- Optimum charging temp: 20 to 22°C / 68 to 72 °F (Room Temperature)

Mid Cobber Rear
- Dimensions: 28 x 43 x 62 mm
- Light output: 170 lumens
- Light output ramge:  Max: 170 h, Eco-flash: 15 h
- Charge time: 4 hours
- 100% waterproof: Yes, is IP67 tested and 100% waterproof against all elements
- Light modes: 8
- Seat post: Small (22 - 32 mm) 
- Rechargable: Yes (integrated USB-A connector)
- Weight: +- 39 g
- Low battery indicator: Yes